We've been living up to our name today, being a 'hive' of activity. Master Beehive the elder has spent the whole day paintballing with friends, Mr Beehive has been removing the hedge and cutting the front lawn, we've all demolished the old chicken house - which was riddled with red mite - don't even go there - (diatomaceous earth, red mite spray, fortnightly coating with mite powder has had no effect on them either on the prevention of in the first place, or the cure.) and we've assembled the new house which is made of recycled plastic - it's looking really good, should be a whole load easier to clean and the mites shouldn't settle in it as there is no where to hide in plastic.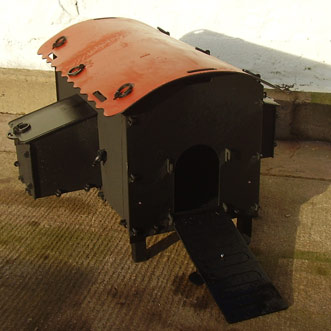 I've made the Christmas mincemeat - yes - don't go there either - it's a story of windfalls!
Do you think we have enough to survive?
and, most excitedly of all, I've been kayaking for a few hours on the canal.
Rosemary and chilli oil, rocket pesto, mincemeat, hot beetroot and garden chutters!
One of the 'things' I have always wanted to do is be able to canoe better, so I bit the bullet and signed up for an adult beginner's course over the next four weeks. We're out twice a week learning the basics (and learning some more advanced stuff too). It was a whole heap of fun and I met some nice people too. The idea is at the end of the course we may want to continue at the club and eventually learn to race. We started in Poly-Pippin canoes
which are more stable on the water, but a bugger to steer and then some of us had a go in the Kirton kayaks
which have rudders and are much less stable when you're stationery but are fantastic at speed and stay much straighter than the Pippins.
It was a somewhat wobbly experience in the Kirton and I am not sure if my butt cheeks could have contracted much tighter in trying to keep the boat upright - I felt somewhat like my mother used to when she drove her mini metro in the 80's, leaning forward to encourage the car to go faster. It had bugger all effect, but made her feel better. For me, trying to control the tilt of the boat with my arse, naturally did nothing, but I did feel my buns had had a great work out after 20 minutes of that!
Still, "
there is nothing, absolutely nothing half so much worth doing as simply messing about in boats!
"